MP, Liz Saville-Roberts re-opens the Talyllyn Railway
7th Aug
After 20 weeks of Lockdown, the Talyllyn Railway was finally able to re-start its Steam Hauled services on Saturday August 1st with carefully designed social distancing arrangements for travel. The first public train since February was waved off on Saturday morning by local MP, Liz Saville-Roberts, who came to Wharf Station to give the green flag at 10.30. Fittingly, the re-opening train was hauled by Locomotive No.2, 'Dolgoch', which has been in service on the Railway since 1866 and was used for the first ever train in Railway Preservation in 1951.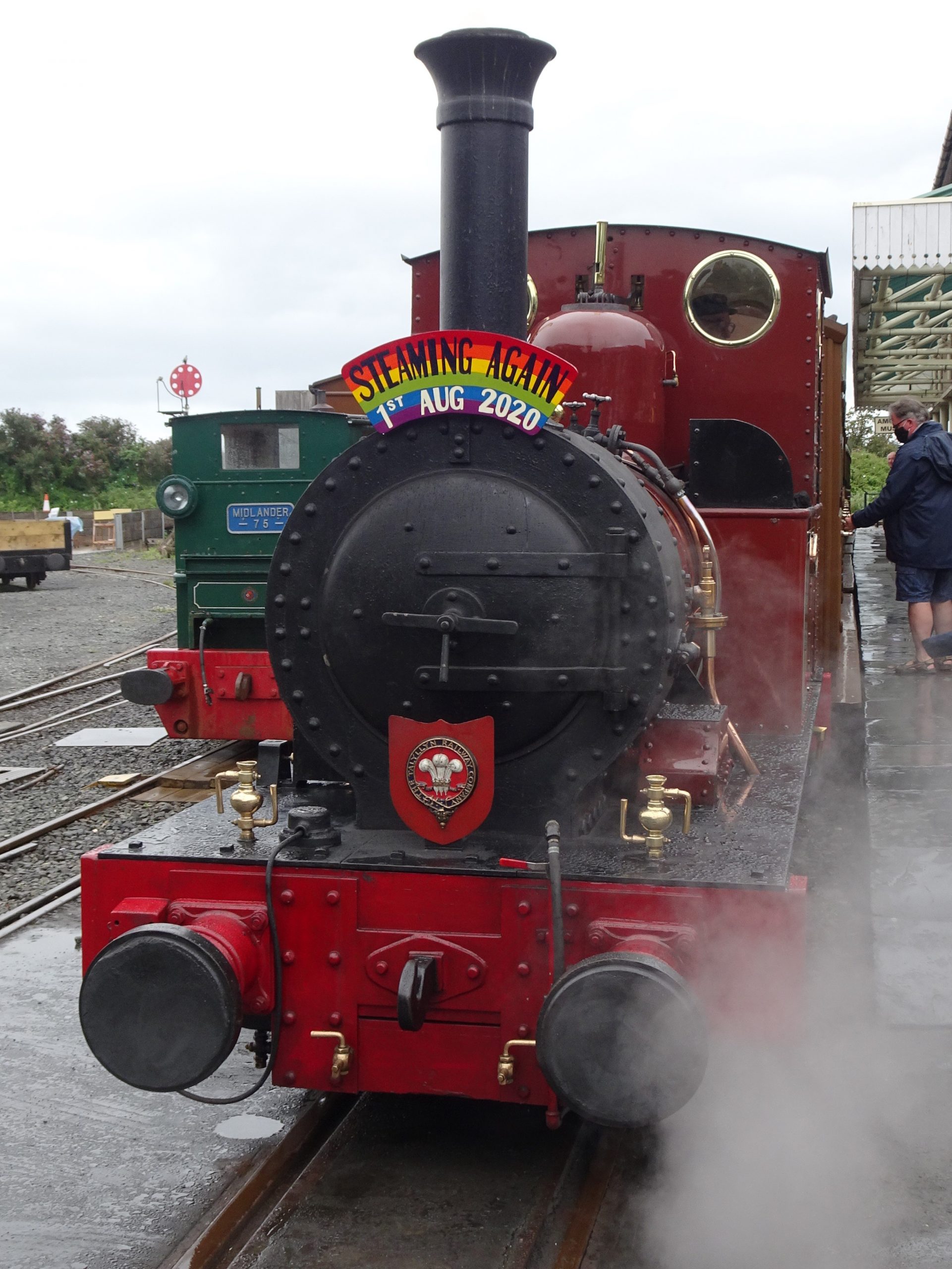 David Ventry, Chairman of the Talyllyn Board and Safety Director explained that during the week before the re-opening, the Railway had run four days of 'Shakedown' trains in order to test out all of the Risk Assessments and the briefings that had been drawn up for staff and volunteers. These 'test' trains had enabled some amendments and adjustments to be made and David said that he was now able to express his full confidence that the Railway was ready and safe to run.
Introducing Liz Saville-Roberts, General Manager Stuart Williams commented that it was a particular delight that our local MP was able to join with the Talyllyn Railway to see the first train off, noting that she had the distinction of being the Member of Parliament who had the greatest number of Heritage Railways in her constituency.
As Co-Chair of the All Party Parliamentary Group for Heritage Rail, Liz said that the Group, during the CV19 emergency, had contacted every MP with a Heritage Railway in their constituency to involve them in the challenge to make sure that these "good businesses" can get through this season, knowing that the (Heritage) Railways had been very dependent on the Furlough scheme. She went on to comment that so many heritage railways, along with the wider tourism and catering industries, had a business model that was built around having a high summer income, which due to the CV19 lockdown has now lost around 3/5ths or more of this year's summer season.
Stuart commented that as a response to these challenges, the Talyllyn Railway was extending its Autumn Running season this year and was also making the most of the Government's "Eat Out to Help Out" scheme.
Normally the Railway would close at the end of October, but this year the daily running will extend until the end of November, and passengers can enjoy the heated carriages.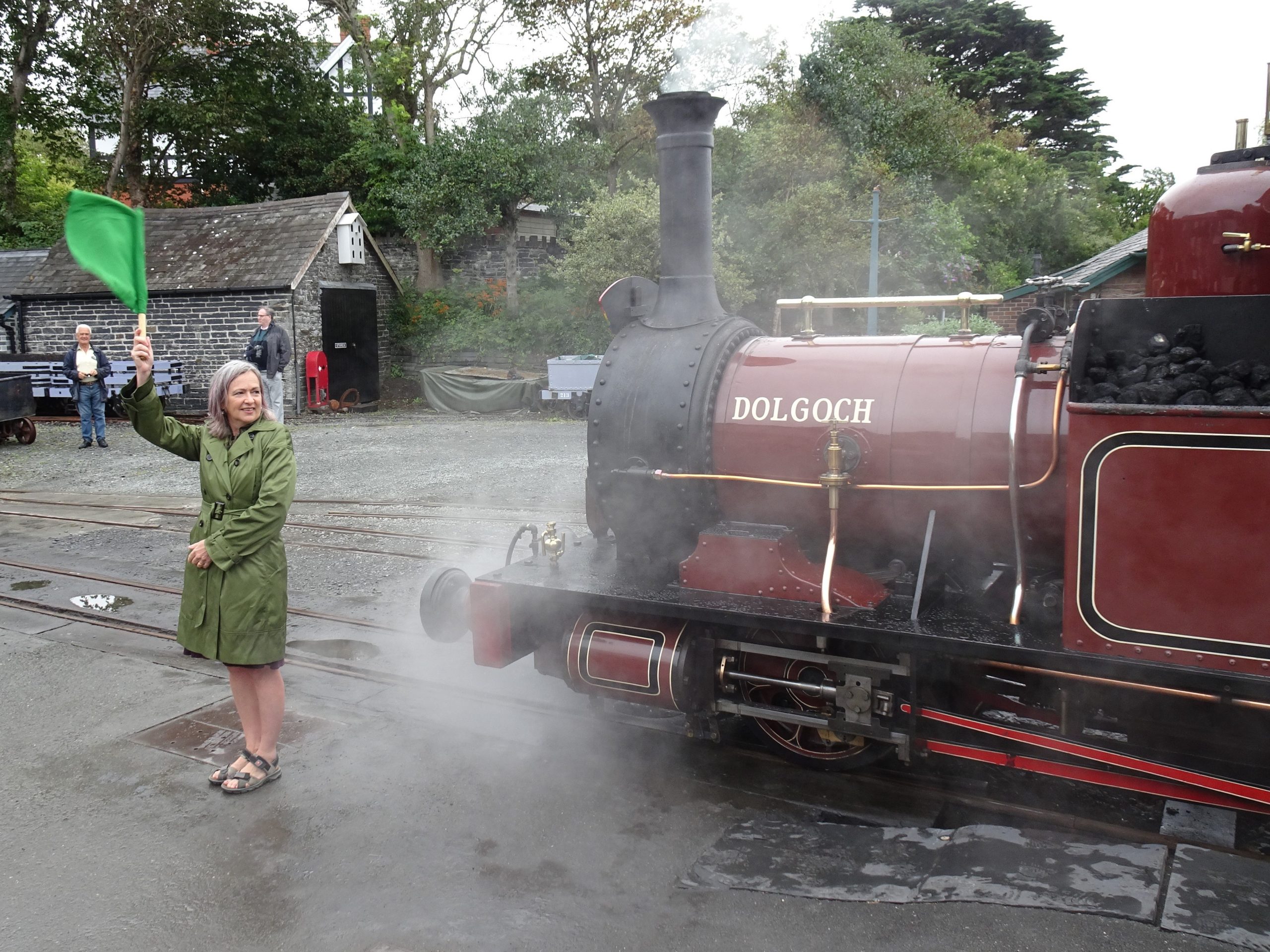 TRPS Chairman Jonathan Mann said:
"It is wonderful to see trains running again today, and I would like to thank Liz Saville-Roberts very much for giving her time to come and re-open our Railway.  Seventy years ago, the Talyllyn Railway was just a handful of weeks away from closure for good, until being rescued by the Talyllyn Railway Preservation Society, and thus starting the world-wide heritage railway movement. Without the Society, the Railway would not be here today, and without the tremendous support both from the Society and from the general public during this crisis, we would not have been able to re-open as we have.
A large group of experienced operating volunteers was brought together by our Operating Manager, Dave Scotson, who spearheaded the plans to re-introduce trains, whilst staff at Pendre Works made sure that the locomotives and carriages, track and equipment, were all ready to run.  At Wharf, staff had worked extremely hard to make the necessary changes to comply with the current regulations to enable the Shop and the Café to open in July – the first green shoots of recovery."
Jonathan concluded saying "I would like to express my very sincere thanks to all of those who have supported us in these difficult and uncertain times, and to those who have worked so hard, in whatever capacity that might be, to enable us to re-open.  Whilst the Country is not yet through the crisis, I am confident that with this level of support and goodwill, our Railway will continue to flourish, and will remain an important contributor to the local economy, which it has served continuously for almost 155 years."
The Talyllyn Railway will continue operating every day for the rest of this season but pre-booking is now essential before travelling.  For full information please refer to the Railways website www.talyllyn.co.uk  or visit their listing here.