Porthmadog; Heritage railway, Lakeside walks and Welsh food – A Day Out on the Snowdonia360: PT. 6
Looking for things to do in Porthmadog? Part six of our tour around the Snowdonia 360 features a child-free and sunny journey on the Ffestiniog & Welsh Highland Railway from Porthmadog through to Tan y Bwlch, with a short walk to nearby Llyn Mair in between journeys and an equally sunny al-fresco dinner at the Oakeley Arms in Maentwrog.
The weather was most definitely on our side for this one…
Ffestiniog & Welsh Highland Railway (Porthmadog to Tan y Bwlch)
Duration – 4 hours
How to get there – From A55 (West of Eastbound) follow signs for A487, then signs for Porthmadog
Website – festrail.co.uk
With the boys now back in school, we took the opportunity to try a section of the Snowdonia 360 child-free (though this section is as equally suitable to families as it is to couples).
Arriving at Porthmadog with some time to spare before our departure, we parked at the large pay and display car park in the centre of town and took a stroll up the high street for some coffee and cake to take with us on our journey.
Once we got to the station, the reassuring COVID-19 measures were well in place with an outdoor check-in area and really friendly staff taking us to our waiting section of the train. During this time, spaces are sold per carriage with each well separated, but still offering stunning views from each side.
The journey itinerary consists of a 45-minute train ride from Porthmadog to the small station at Tan y Bwlch. With the weather on our side, this must surely be the most beautiful section of the narrow-gauge railway in the UK. On our journey we passed over the famous Cob, offering views of such iconic mountains as Snowdon, Siabod, and Cnicht on one side, and the stunning estuary on the other. The railway then rises above the Afon Glaslyn and ventures inwards through Minffordd and Penrhyndeudraeth before reaching its beautiful destination, nestled in the forests above Plas Tan y Bwlch.
With a generous one hour stop at Tan y Bwlch, we decided to grab some hot drinks from the station café before heading on one of the many woodland walks which snake away from the station area.
On a day like this, there was only one place we wanted to visit: Llyn Mair. This hidden gem of a lake, is just a 10-minute walk downhill from the station and is the perfect place for a picnic in the sunshine and also has a well-appointed trail around its shores. This whole experience is a real 'must-do' while the train terminates at Tan y Bwlch – you really do have to see this lake for yourself!
And with that, it was time to head back to our carriage. Heading back the same way was a pleasure – seeing these stunning views again never gets old and the journey back across the cob, with Porthmadog insight, is one of those truly memorable moments on the Snowdonia 360.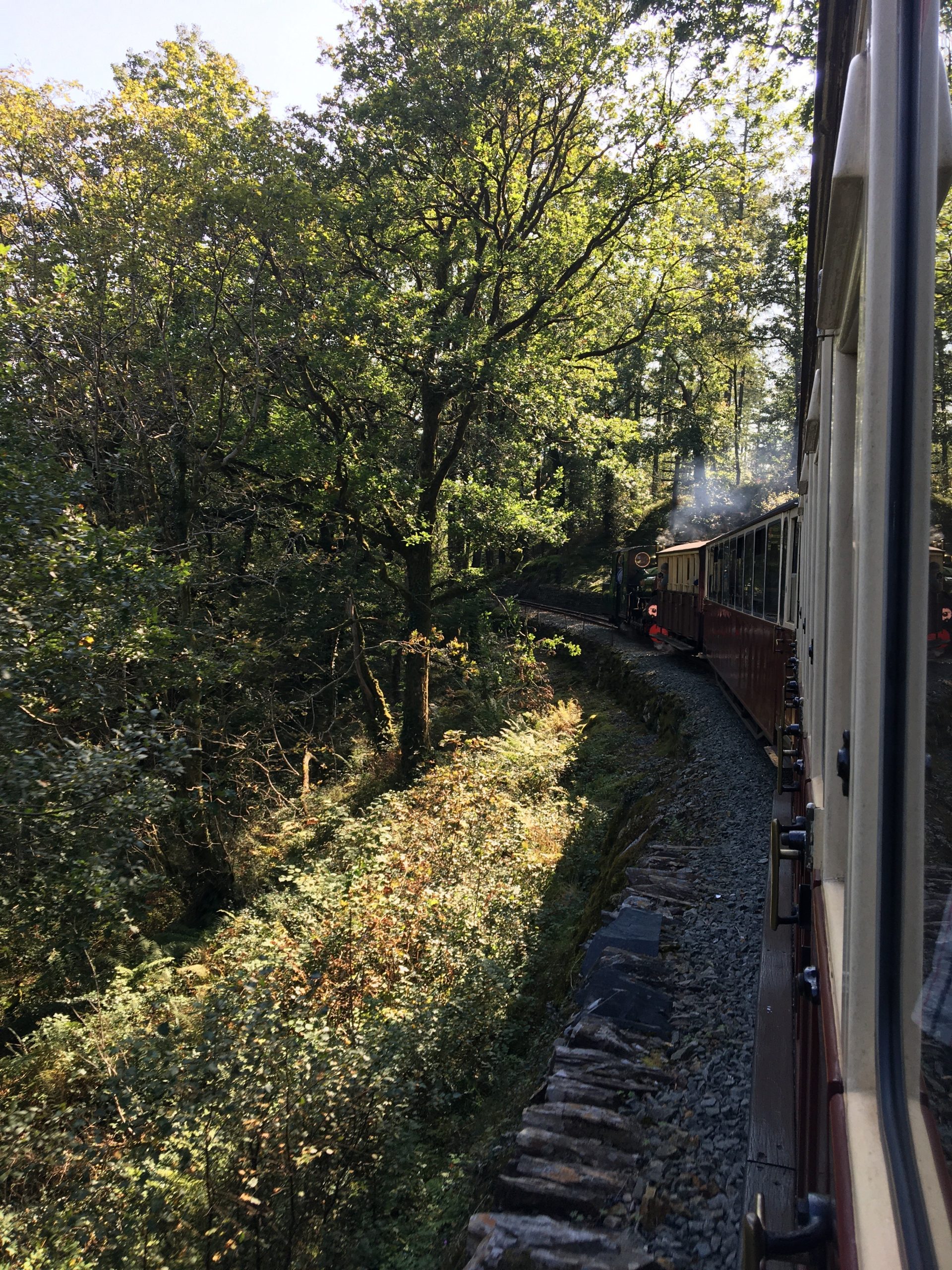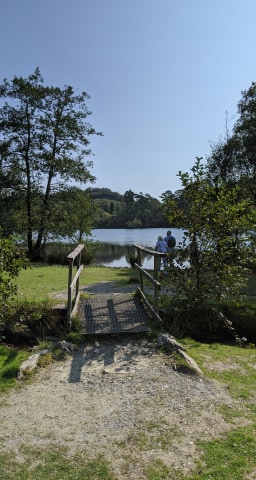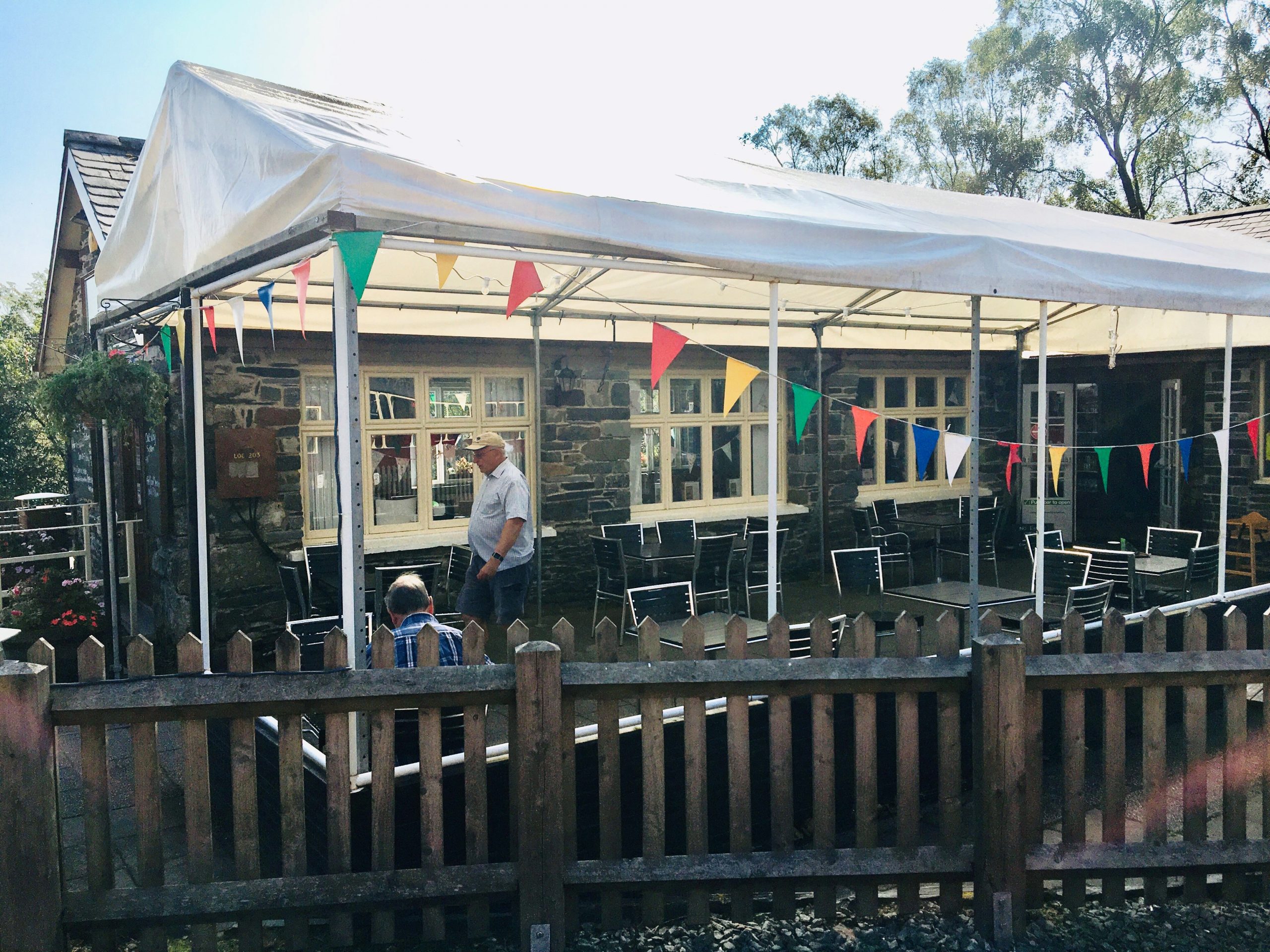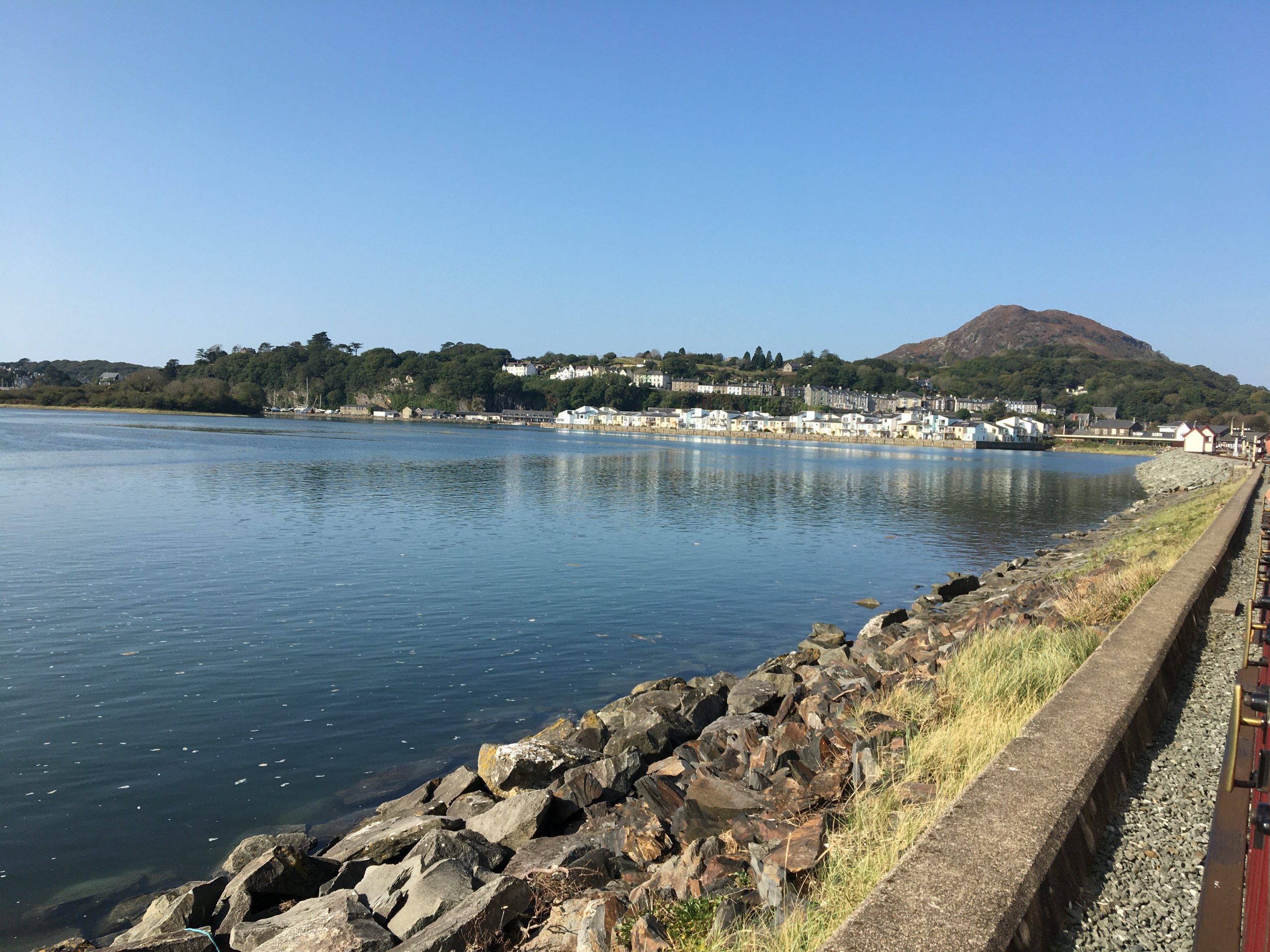 The Oakeley Arms, Maentwrog
Duration – Take your time!
How to get there – A487 from Porthmadog
Website – oakeleyarms.co.uk
After a morning of excitement and exploring what the railway has to offer, it was most definitely time to stop for something to eat. And what better on a beautifully sunny day, than somewhere with a great selection of gins and cask ales, a menu full of variety, and outside seating in a super location.
Luckily for us, just 10 minutes on from Porthmadog, the Oakeley Arms in Maentwrog ticked all of those boxes and more!
Located directly on the A487, the Oakeley Arms is an unmissable Grade Two listed 16th Century building and part of the Oakeley estate – one of the historically significant families in the local areas slate mining story.
Upon arrival at the Oakeley, we were greeted and served by the owner, Ann Marie. Her cheerful demeanor was contagious and her passion for keeping the Welsh language and culture alive was evident around every corner of this beautiful historic building, this added to the whole experience.  After a discussion about the intriguing 'Mystery Gin' offer, we took our drinks outside and took in the sun and the equally impressive views.
Again, the Oakeley is another business on Snowdonia 360 taking COVID-19 precautions seriously and finding innovative ways to make the experience easy for visitors. Each table outside has a QR code on it, scanning this brings up the Oakeley's menu. From this, you order your food and it's brought to your table in no time at all! Super easy!
But back to the menu… between this and the specials board, we really did have trouble narrowing things down – everything sounded so amazing. In the end, we chose two very different options – a vegan burger with skinny fries, and the beast that is the Oakeley burger, which consisted of a beef burger, bacon, caramelised onions, smoky cheese, tomato, and lettuce. Oh, and chunky chips, because my husband won't just stop at the biggest burger!
Of course, we finished with desserts, it would have been rude not to! – a chocolate fudge cake and a Belgian waffle, both with ice cream, and both must-haves on any menu in our opinion.
Soon after finishing our desserts it was time to head off, but with a location like this, with so much to offer, we really do recommend taking your time and enjoying the laid-back atmosphere of this unique pub and hotel, they even have a number of rooms, making it a perfect base to head onto Zip World, Llechwedd and Blaenau Ffestiniog further up the road.
For prices of each attraction and cost of lunch please see individual websites: