North Snowdonia; Heritage & Adventure
Whether you're travelling as a couple, a group of friends or as a family – this mixed itinerary has been designed to showcase the culture, heritage and landscape of the North Snowdonia region.
We've included a selection of the best things to do and places to eat and stay in the North Wales area. With exhilarating activities, sight-seeing and a little calm exploration, this itinerary should offer something for a family with a broad range of tastes.
Day 1 – Explore
You'll start your Snowdonia 360 travels in Llanberis, at the heart of the Snowdonia National Park. This town is at the foot of Snowdon and, for travelers not interested in mountains, also offers the lakeside Padarn Country Park as well as an abundance of shops.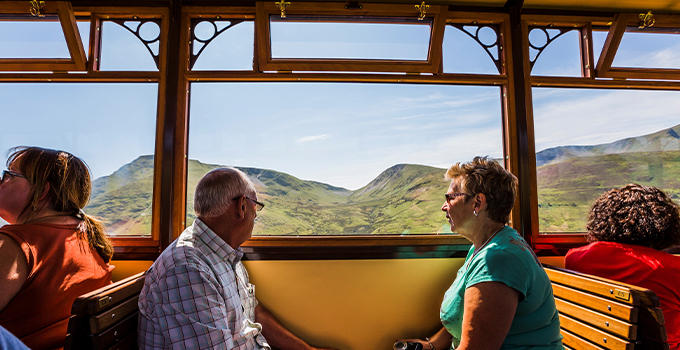 Morning – Snowdon
You don't necessarily need a pair of walking boots to ascend the highest mountain in Wales. Relax and take in the stunning views on the Snowdon Mountain Railway. This narrow-gauge railway takes you to the peak and back in 2.5 hours.
Enjoy a mid-morning snack, or maybe even lunch, at the Snowdon Mountain Railway café, or one of the many other lovely places to eat in Llanberis.
Afternoon – Caernarfon Castle
It's just a 15-minute drive from Llanberis to the historic coastal town of Caernarfon, along the A406. Here you'll find heritage in abundance and an afternoon visit to the imposing Caernarfon Castle is a must. The entire town is wrapped in the castle's mighty walls and also happens to be an impressively restored UNESCO World Heritage Site. An easy and enthralling afternoon of shops restaurants and culture after your day in the mountains.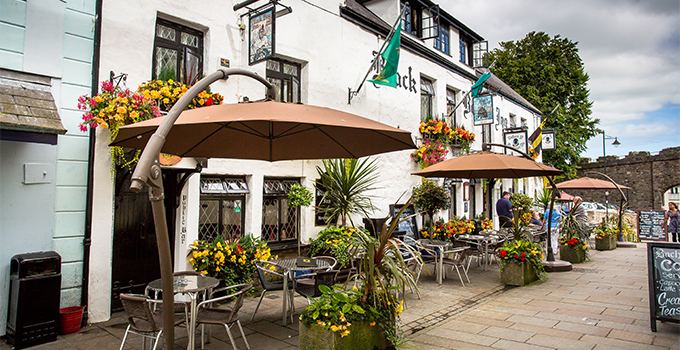 Evening Meal & Accommodation
After a full day of exploring, you'll not want to move far. We recommend a traditional meal at The Black Boy Inn and perhaps an overnight stay in one of their many character-filled rooms. Why not opt for one of their Four-Poster bedrooms. The Black Boy Inn stands within the Castle Walls, and dates back to the early 16th Century.
Day 2 – Adrenaline
After a great night's sleep, you'll now be ready for an action-packed day out.
Morning
Today you'll head on the 487/496 for 45 minutes to Blaenau Ffestiniog. Originally renowned for its Slate Mining, now it's now home to Europe's largest 'zip zone' and the impressive Zip World Titan! Soak up the amazing quarry views (if you can open your eyes) during an adrenaline-fueled zip line experience.
Lunch
After a morning's zip-lining you'll be ready for a bite to eat and a 'panad' (Welsh for cup of tea, which you'll hear a lot on your travels) at the on-site cafe. Grab a traditional Welsh stew, or maybe a crisp fresh salad. There are lots of lovely dishes to choose from here.
Evening Meal & Accommodation
This evening we recommend you stay onsite at one of Llechwedd's glamping lodges. There are lots of reason's it's been awarded a Gold Star award by Visit Wales. Luxury glamping with awe-inspiring views to wake up to, what more can be said. Eat at the Emporium restaurant on site and try one of their delicious stone baked pizzas.
Day 3 – Relax
A relaxing day is now on the cards, so after breakfast, take a gentle 30-minute drive to the enchanting Italianate style village of Portmeirion on the tranquil Afon Dwyryd.
Home to iconic architecture, a spa, stylish shops, restaurants, café's, exotic gardens and sandy beaches, there's plenty to keep you occupied.
After a busy couple of days, we'd recommend you spend time here, milling around, taking pictures, eating and shopping. Then perhaps finish your trip off with a stay in one of Portmerion's two hotels. Both overlooking the sea and both with excellent restaurants.
Please, tell us what you think
We regularly add new itineraries to the Snowdonia 360 website. The idea of each one is to offer couples & families of all ages travelling together, an inspiring way to easily plan a visit to the Snowdonia National Park and the surrounding area.
Please tell us what you think about this itinerary in the comments below or on our Facebook Page. Have you tried it, what was good and what would you do differently?
Thanks for your feedback.