A Taste of Greece from Blaenau Ffestiniog
14th Jan
Nestled in the slate mountains of Blaenau Ffestiniog, sits the quaint Greek restaurant – Caffi Kiki. Owned and run by hugely talented Kiki Rees-Stavros, like many of us, she has spent lots (if not most!) of her time during the Covid-19 lockdown in her kitchen cooking beautiful Greek dishes. Although we can't visit Caffi Kiki to enjoy her delicious dishes at the moment, Kiki is bringing us a taste of Greece by sharing one of her traditional Greek recipes. Read on to discover how to perfect Greek slow-roasted potatoes with lamb and courgettes.
Caffi Kiki's Greek Slow-Roasted Potatoes with Lamb and Courgettes
It seems strange to admit that as a cook, I seem to have spent more time cooking since closing the restaurant, but I'm sure I'm not the only one who is finding comfort in my kitchen during these strange times. Food is one of the highlights of travel to me, so recently I have been trying to recreate some of my favourite holiday dishes, as well as some of my Greek grandmother's traditional recipes for a bit of an escape.
Having more time on my hands I have made it my mission to perfect Greek slow-roasted potatoes with lamb and courgettes. This is my go-to lazy Greek Sunday lunch alternative. It's so much less effort than the British version, but just as rewarding.
Ingredients
Welsh Lamb
6 large Potatoes
2 Courgettes
1 bulb of Garlic
1 Lemon
Olive oil
Oregano
Salt and black pepper
Method
Peel and slice your potatoes into wedges and cover them very generously* with olive oil, oregano, salt and pepper. Roughly chop half of the garlic, leaving half of the cloves whole and unpeeled. Sprinkle them over the potatoes, put them in the oven and start to bake.
Meanwhile start seasoning the lamb with salt, cracked black pepper, olive oil, a dash of fresh lemon juice and oregano. You can marinate beforehand if you prefer. You can also start chopping your courgettes into half slices.
I have been guilty of trying to rush this dish in the past and having the oven on full, but time really is the essence of this meal, and it's worth taking your time and cooking slowly for lovely buttery melt-in-the-mouth potatoes. The piece of lamb you choose will also dictate the time you allow- I've spent a lifetime of frustration asking Greek relatives "how much do you use" and "how long do you cook it for?" for them to reply without sarcasm "enough" and  "until it's ready." A small (roughly 1kg) joint of lamb should take about two hours, whereas chops or steaks can take less than half that time.
When adding the lamb to the tray, check that the potatoes are already starting to soften. Make sure they aren't drying out by adding a cup of water, and more oil if necessary (they should be mostly submerged.) You can cover the tray with foil to keep the moisture in. Keep checking the lamb every half an hour, and about half an hour before it's ready to add the courgettes. Give it all a good stir to make sure the courgettes soak up the oil. Now you can remove the foil and turn the oven up to try and crisp the edges if you like. Once the lamb has crisped up and the courgettes and potatoes are soft, add the rest of the lemon juice and leave to stand for about 10 minutes before serving.
*I mean cover, Greeks measure olive oil in cups…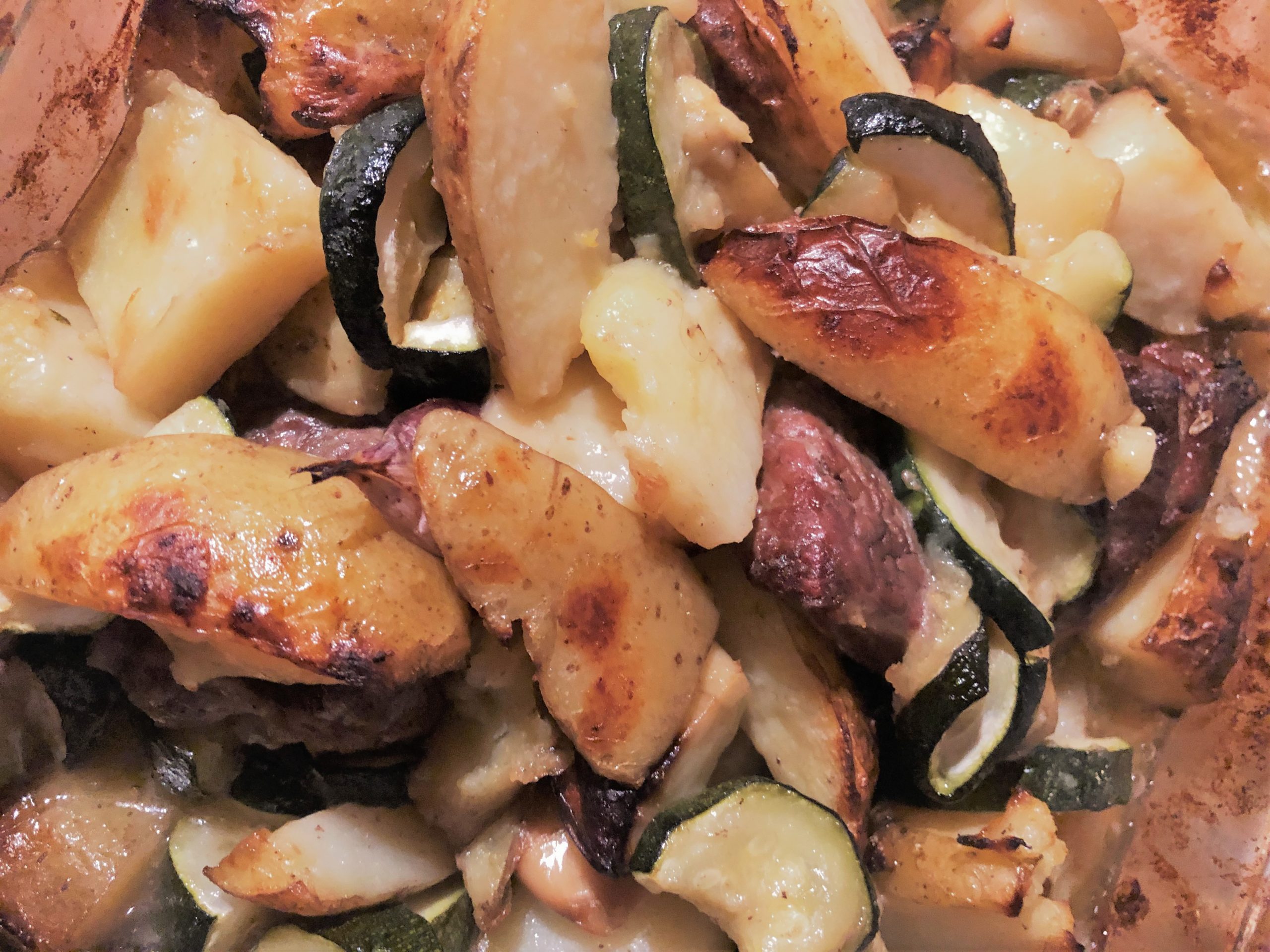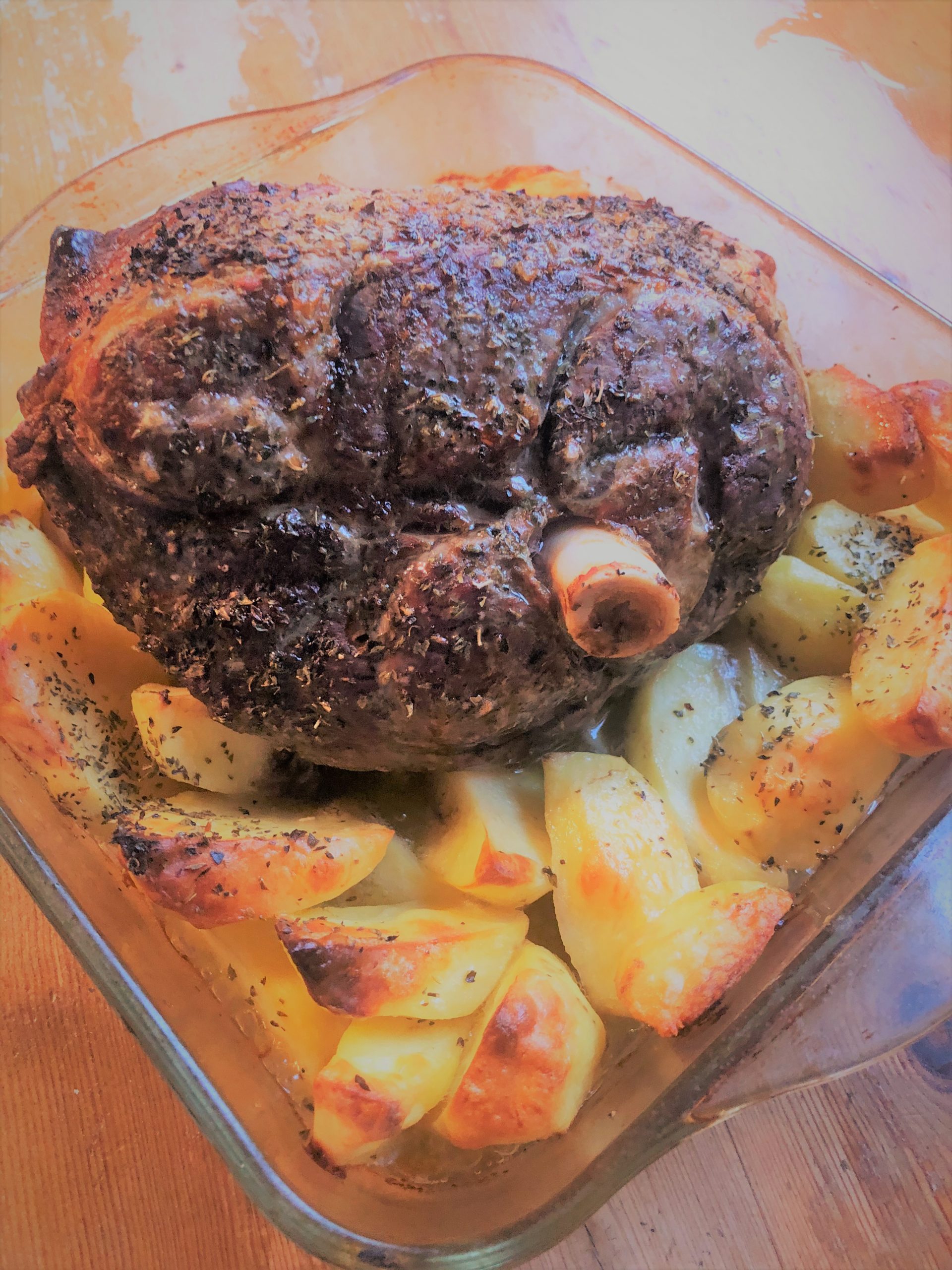 You can serve this as it is, but it works really well with feta cheese or tzatziki, and a fresh Greek salad. Don't forget a nice loaf of crusty bread to dip in the oil.
Another dish substitutes the lamb for a roast chicken, and I also make a simple vegetarian version for my mum with feta cheese.
Enjoy!
Find out more about Caffi Kiki